GRP Mini mesh Grating for Pontoon & Marina decking
Non-slip mini mesh grating
GRP Grating Systems Mini Mesh grating is supplied to the marina sector in the UK & EU. Our fibreglass marina decking and pontoon decking is used by marinas/harbour masters as a replacement for worn timber pontoon decking or steel grating. The grating is easily integrated into new/old pontoon systems, pontoon fingers, bridges, walkways and new marina developments.
Mini mesh grating is an extremely resilient & durable marina decking material achieving a life span of at least 50 years and is extremely chemical resistant. Mini mesh pontoon decking is designed to replace worn deck materials and is the perfect replacement for use on:
Pontoons
Marinas
Jetties
Finger pontoons
Bridges
Walkways
Breakwaters
Access gangways and ramps
Pump out and refuelling stations
Work stations
Mini mesh pontoon decking contains a gritted, anti-slip surface and has been tested to BS standards with an excellent slip-resistance in wet, oily and icy conditions. The gritted anti-slip surface of Mini mesh pontoon deck provides long-lasting protection against heavy damage and is the perfect replacement for traditional deck materials such as timber when used in marina developments.
Benefits of mini mesh grating
GRP Grating Systems Mini Mesh Grating has a 12mm x 12mm mesh size and the Micro – Mesh grating has a 8mm x 8mm mesh size. The small opening prevents objects as small as 13mm from falling through and complies with the European 15 mm ball falling test requirement.
The smaller holes also offer smooth movement for small wheeled trolleys, wheelchairs, prams, delivery trolleys etc. The mesh size still allows plenty of sunlight to reach marine plants and life keeping a sound ecological marine system.
As well as fulfilling requirements for design aesthetics, mini mesh grating pontoon decking brings new levels of safety to the industry. Fibreglass grating offers optimum levels of safety, even in freezing conditions and when subjected to oil and high seas. It is also algae resistant and maintenance free, making it not only one of the safest, but also the most cost effective surfaces on the market today.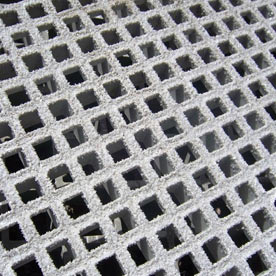 PDF Information Sheets
Our Other Services
GRP Grating Systems
Fibreglass reinforced gratings are available in a number of mesh and panel sizes. We carry stock of all sizes, colours and resin types.
Each type of grating has specific properties and applications. Our sales staff would be happy to advise you on any application.
More GRP Grating products